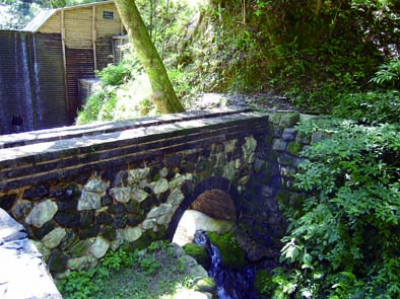 In late Edo period, the 11th head of Nakayama district Uchida Taemon took command of the construction of an irrigation channel in 1819 for drought countermeasures. The channel of about 1500 ken (3 km) long was excavated from Setoyama area, going around the Gongen Mountain.
Later, however, the flooding became worse, and from 1907, the construction of Nukiide channel started. In July 1909, the construction was completed.
Nukiide Channel is about 160 meters long, and Furo Bridge is 10 meters.
Furo Bridge, one of the City's Cultural properties, was restored as one of the prefectural public work projects.

| | |
| --- | --- |
| Address | Nakagori, Misato Town |